WinTV version 6 application
Overview of the WinTV v6 TV window
WinTV v6 can be used with any WinTV-PVR TV tuner.
After the installation of the WinTV v6 application, you find see a shortcut "Hauppauge WinTV" in the Windows Start menu and the WinTV icon on your Windows desktop.
Click diagram to enlarge.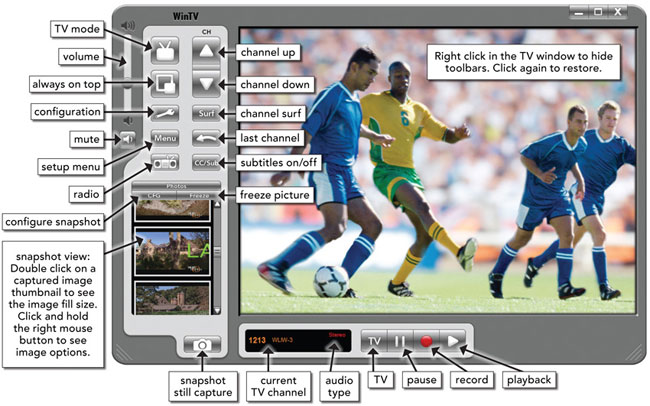 Basic control of WinTV v6:
To remove the TV tools (called "No Title mode"), click your RIGHT mouse button once in the live TV area. To see the TV tools again, click your RIGHT mouse button once in the live TV area. In each mode, you can set the position and size of the WinTV window.
Watch TV full screen: click the Full screen button. Click your RIGHT mouse button or hit the ESC key to exit full screen mode.
Changing TV channels: Click Channel Up or Channel down. Or RIGHT click in the TV channel window which will display the current TV channel list for fast channel changing. You can also change channels by using the numbers on the keyboard or by pressing the letter on the keyboard for the channel name that you want to view.
Record TV: click the red Record button (which is next to the TV channel window) to start recording. You can set a record timer but clicking the red record button once for each 15 minutes you'd like to record. When you are finished recording, click the TV button. You can automatically schedule a recording by using the Hauppauge WinTV Scheduler.

Audio setting: RIGHT click the mouse button on the "audio type/language selection" you can change the available audio language settings of the current TV program that you are watching.

Control menu: click the Menu botton, or RIGHT click and hold the mouse button (hold for 2 seconds) in the TV window, the control options are displayed.

In order to re-size the window, move the mouse pointer to the edge of the TV window. This changes the mouse pointer into a double arrow. Press and hold the left hand mouse button and drag the window into the desired size, releasing the left mouse button when finished.
WinTV Scheduler with built-in support for TitanTV
TV Scheduler version sched25_26071.exe
This version of the Hauppauge WinTV v6 Scheduler supports TitanTV, the web based TV electronic program guide.
To use TitanTV, go to www.TitanTV.com, and register, choosing your local TV provider. If you have a Hauppauge WinTV installed. simply click the Record button when viewing the details of any TV program.

Note: You need an internet connection to use TitanTV.com
Name: sched25_26071.exe
Location Manager with QAM channel mapper
Location manager
The Location Manager allows you to save a channel list, and give it a name. For example, if you are in Chicago and scan for TV channels, you can then save this list and call it 'Chicago'.
If you then visit Milwaukee, you can scan for channels and use WinTV, but when you return to Chicago you can use Location Manager to select the Chicago channel list.
The Location Manager also has a QAM channel mapper, which allows you to map QAM channels to the channel list from TitanTV. For example, let's say you scan for QAM channels and find that channel number 2703 is really CNN. You can use the QAM channel mapper to tell the Scheduler that when you click on CNN in TitanTV, that CNN is found on QAM channel 2703.
Click here for instructions on using the QAM mapper.
Note: You need an internet connection to use the QAM channel mapper.
Name: hcwlocmgr_setup.exe
Version: 2.0.27029
Zap2It EPG plug-in for WinTV Scheduler
epg_for_haup_1.00.04.exe
This is a third party plug-in for the Zap2It Electronic program guide, and uses the WinTV v6 Scheduler.
This EPG has support for the U.S. and Canada.
To use this guide, go to www.Zap2It.com and register using your Zip or Postal code. Then, click on TV Listings. When you see a program you want to record, click the program listing and then click 'Record to WinTV'.
Note: to uninstall this plug-in, use the Add/Remove programs from Control Panel. Make sure you have Explorer turned off before you try to uninstall this plug in.
Note: you need an internet connection to use Zap2It.
Name: epg_for_haup_1.00.04.exe
Installation instructions for the WinTV v6 CD
Note: WinTV v6 is compatible with all WinTV-PVR products. In 64-bit versions of Windows 7 and Windows Vista, the WinTV-PVR-150, WinTV-PVR-250, WinTV-PVR-350 and WinTV-PVR-500 require the use of less than 4GB of memory.
Installation note:
A valid WinTV application CDROM will be needed to install this WinTV v6 version. Any WinTV-NOVA version 4x, WinTV-PVR, WinTV version 6 or WinTV v7 application CD can be used during the install. If you do not have your original WinTV CD-ROM but would like to update to this WinTV v6 version, you can purchase a new CD on the Hauppauge webstore.
Supported WinTV products:
This version of WinTV v6 is for the WinTV-PVR and analog WinTV series of products. It can be used with the following WinTV products:
In addition, WinTV v6 can be used with the European equivalents of the above models.
WinTV version 6 plus WinTV-PVR drivers. Installation CD Version 4.6b
Note: This is a single file which includes the driver, the driver update, middleware, video decoder and WinTV v6 applications and all accessories. This file is larger than the individual pieces, but should be easier to install since it is in one file.
Note: this package is for Windows XP, Windows XP Media Center Edition, Windows Vista and Windows 7.
Installation Procedure
Step 1 - Software download

Please click on the download link from your products support page, you will be given an option to Run or Save the file.,
Click Run to start the installation procedure:

Once the file has finished downloading, the self extracting wizard will begin:

Click Next then select a path where you wish to extract the files (we recommend leaving this at its default setting), the Hauppauge software and drivers will be extracted automatically to your computer.

Step 2 - Previous software removal

If you have a previous version of the software installed you will be prompted to uninstall it, click OK to automatically do this.

The 'HCWClear.exe' application will start up and begin uninstalling the previous software, any error messages or notes will be shown in the black box.

Once complete you may need to restart your computer, press 'OK' to automatically restart your computer.

Step 3 - Installation of the drivers

After Windows reboots, you will see the Windows Found New Hardware Wizard, please select 'Ask me again later' in Vista or simply cancel this wizard in XP (it may appear several times, repeat this each time the wizard is shown):

Once you are at your desktop, double click on the link to the install application:

This will open up the Hauppauge install application, click 'Step 1: Install Drivers':

This will then open up our driver installation program and automatically start installing the drivers for your product:

Once complete click on the bar to continue.

Step 4 - Installation of the WinTV Software and other applications

In the Hauppauge installer you will now need to click 'Step 2: Install WinTV':

Select the language you wish to install from the list.

Note: If you wish to customize the install list click on 'Custom Installation'.

The applications relevant to your product will now be shown and will begin to install:

Note: Installing may take some time as it is updating other system components, please be patient.

Once complete click 'OK' then click 'EXIT'.
WinTV version 6 users manual
WinTV version 6 users manual
Updated: October 15, 2007
Prodinfo: get information on your Hauppauge TV tuner
Download Prodinfo
Prodinfo.exe is a program you can run which will extract information about the WinTV product you have installed such as model and serial number, MAC address, revision, and features which can be used to identify the exact model of your product. The driver for the device must be installed in order to run Prodinfo.exe
HCWClear: remove the Hauppauge driver and applications from your PC
Download HCW Clear
HCWCLEAR.exe is a program you run to remove all driver and files that were installed with the installation of the Wintv program.