Support: WinTV-HVR-2205, WinTV-HVR-2200/2210 and WinTV-HVR-2210/2215
Latest WinTV v8 application
Click the below link to get the latest WinTV v8 application and TV tuner driver download package
Latest WinTV v8 installer Package
For Windows 8, 7, and Windows 10
Windows driver
WinTV HVR 22xx driver version 34216.
Name: Driver89_7_9_1_34216.exe
Size: 18.8 MB
Updated: 17/8/2016
To install the latest Windows driver only:
Leave your WinTV-HVR plugged into your PC. Follow the following steps:
Download the WinTV-HVR-22xx Windows driver above.
Double click the downloaded driver. This will install the WinTV-HVR-22xx Windows driver.
At the completion of the driver install, you should see a message which says Drivers have been updated successfully.
At this point, the Windows driver will be installed.
Beta versions
None at this time.
3rd Party Applications
Is a free Personal Video Recorder (PVR) and Media Centre application for Microsoft Windows.
WinTV-HVR-22xx Manuals and documentation
Linux for the WinTV-HVR-2205 and WinTV-HVR-2215
Linux for the WinTV-HVR-2205 and WinTV-HVR-2215
For the Linux driver, please send an e-mail message to: davidz@hauppauge.com
Linux for the WinTV-HVR-2200
Remote control buttons
Windows Media Center buttons

Media Center remote control is optional

WinTV v7 controls

Media Center remote control is optional
click to enlarge
click to enlarge
Card size Remote control buttons
Note: This remote control is supplied with some of the HVR 2215 Retail models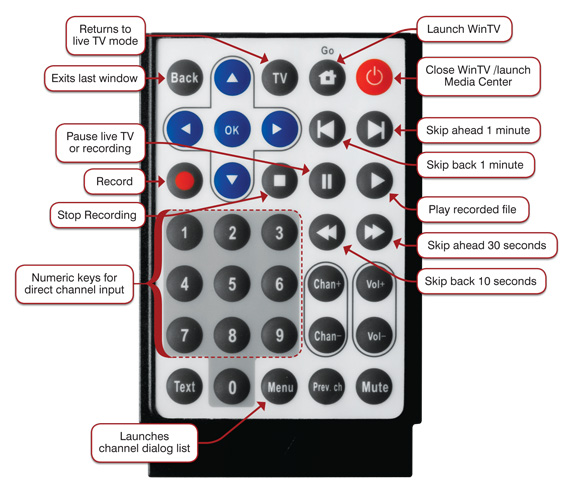 click to enlarge
Windows Media Center
All WinTV-HVR-22xx boards are designed for Windows 8, 7, Visa and WindowsXP. They can also be used with Windows Media Center or Hauppauge's WinTV v7 application.
If you are running the Windows Media Center application, you only need to install the WinTV-HVR Windows device driver. You do not need to install the Hauppauge WinTV v7 application.
If you are using Windows Media Center and want to use the on-board Media Center compatible receiver transmitter, you also need to run the Hauppauge CIR config tool and select Hauppauge WinTV-HVR-2215. In the WinTV-HVR-22xx manual, see the section entitled "Configuring the IR Blaster".
Accessory software for the WinTV-HVR-22xx
WinTV Digital Signal Strength Indicator
Signal Strength Indicator version 32308
The WinTV Digital Signal Strength indicator displays information about the quality of the digital TV channel you are watching. This application is used with the WinTV v6 and WinTV v7 applications.
Click here for instructions on using this application.
IR Remote control version 30339
Remote control applet. After you run this applet, an icon will appear in your Windows device tray showing that the Hauppauge remote control is active..
Name: 2_68_30339_IR32.exe
Size: 443KB
Updated: Oct, 7, 2010
WinTV-Scheduler update for WinTV version 6

This TV program scheduler for WinTV version 6 allows 'background recording' on dual tuner WinTV products.
Name: sched25_26071.exe
Size: 3.8 MB
Updated: March 11, 2008
Frequently Asked Questions
WinTV v7 Error messages
First time installation of WinTV v7 or during a reinstallation: "WinTV board not found" or "No TV tuner available"
Step 1: Check the status of your Hauppauge TV tuner drivers in Windows Device Manager
Click Windows Start, click on Control Panel and click on Device Manager
In Device Manager, click on Sound, video game Controllers
You should see your Hauppauge product
Step 2: If the Hauppauge device has a yellow exclamation mark
Click on the Hauppauge device to open it. If you see the following:
"Windows cannot verify the digital signature for the drivers required for this device. A recent hardware or software change might have installed a file that is signed incorrectly or damaged, or that might be malicious software from an unknown source. (Code 52)"
This appears to be a bug in Windows 64 bit OS since the Hauppauge Windows drivers are signed.

The following is the easiest fix to Error Code 52 on Windows 7 or Windows 8 64bit.
In Device Manager, right click the Hauppauge product under Sound Video and Game Controllers with the exclamation mark and select Uninstall. If you have a USB product you might see multiple listings, please right click the first one on the list. (For this example we will use the WinTV-HVR-950Q. )
On the Confirm window please check the box for "Delete the driver software for this device" and click OK
Repeat the uninstall for the other two WinTV-HVR-950Q entries. (note you won't be asked to 'confirm device uninstall' again)
Once the drivers are removed, right click on Sound, Video, Game controllers and click Scan for Hardware Changes
Windows should now look online automatically for the 950Q drivers
Take a look after a few minutes if the drivers are installed automatically properly under Sound Video and Game Controllers.
If they still come back as "unsigned" try the procedure again
Errors when running WinTV 7: "TVserver cannot Start" or ".NET framework" errors
This can be caused by a corrupt WinTV v7 Channel Database. You will need to uninstall and reinstall the WinTV v7 application and the Channel database to fix this.
To uninstall WinTV v7, click Windows Start, click on All Programs, click on Hauppauge WinTV run Uninstall Wintv7. You can also or remove Wintv7 using control panel "add/remove programs".
Then you need to remove the backup Channel database:
Windows Vista, 7 and 8: Go to C:\program data ( this folder is a hidden folder so if you do not see it you need to "show hidden folders " in your search Options) once you can get to this folder you will see a folder label "Hauppauge". Delete this folder.
Windows XP: Go to C:\documents and settings\all users\shared documents\application data ( this folder is a hidden folder so if you do not see it you need to "show hidden folders " in your search Options) once you can get to this folder you will see a folder label "Hauppauge" delete this folder. Then download the latest version of Wintv7 located in the support section of the website and reinstall (note: you must have your original CD to validate the download.)
Settings.xml file is corrupt or missing"
Uninstall WinTV v7 using control panel Add/remove programs under Programs and Features and then reinstall WinTV 7
Download Prodinfo
Prodinfo.exe is a program you can run which will extract information about the WinTV product you have installed such as model and serial number, MAC address, revision, and features which can be used to identify the exact model of your product. The driver for the device must be installed in order to run Prodinfo.exe
Download HCW Clear
HCWCLEAR.exe is a program you run to remove all driver and files that were installed with the installation of the Wintv program.