Latest WinTV v8.5 application
Click the below link to get the latest WinTV v8.5 application and TV tuner driver download package

Latest WinTV v8 installer Package
For Windows 8, 7, and Windows 10
Hauppauge Capture application for USB Live 2
Hauppauge Capture supports HD PVR2, Colossus 2, USB live2 and Impact VCB-E models
Hauppauge Capture features:

Record your game play with in-game chat with our microphone mixing feature
Simple and fast trim editor
Built-in YouTube upload
Simple to use video quality selector and scaling options

Download Hauppauge Capture

Click the below link to get the latest Hauppauge Capture application

Latest Hauppauge Capture installer Package
For Windows 8, 7, and Windows 10
Windows Driver
To install the latest driver:
Leave your USB-Live2 plugged into your PC. Follow the following steps:
Download the Driver10 update
Run the EXE file.
This will install the USB-Live2 base driver. At the completion of the driver install you should see a message which says Drivers have been updated successfully.
Third Party Applications
Adobe Flash Media Encoder Live
Stream your live video, video + screen, or screen-only along with your audio to viewers via the public Internet.
USB-Live2 manuals
Can I capture video with Adobe Flash Media Encoder Live?
Yes. Please see the following pictures to set the input source on the USB-Live2. Also, the audio needs to be routed from your microphone or other audio source to the "Line in" jack on your PC.
Currently, while you can bring video from USB-Live-2 into the Media Live Encoder, audio from USB-Live-2 is not supported.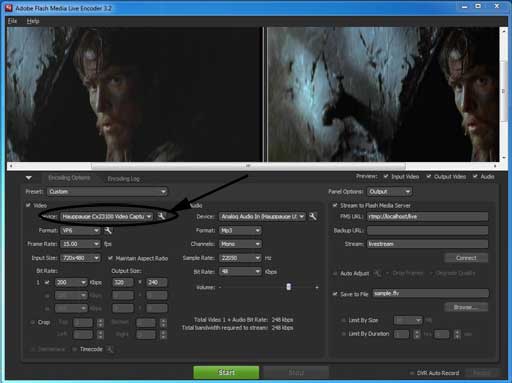 This is the Adobe Flash Live Media Encoder main menu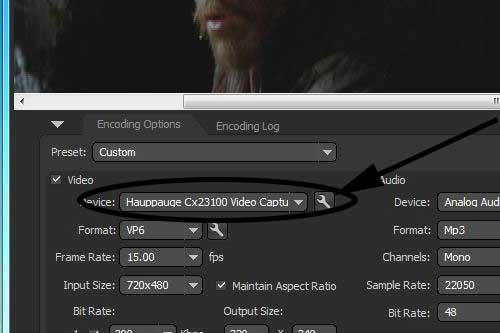 Click the "wrench" icon next to the Hauppauge device.
Then click the tab marked "
Crossbar
" and click "
Input"
. You will see a list of video input sources which USB-Live-2 has. Set the input source to the one you want to use.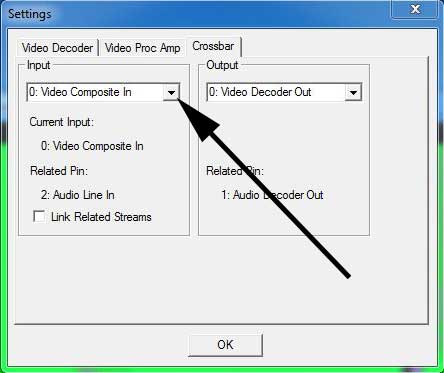 Prodinfo: get information on your Hauppauge TV tuner
Prodinfo.exe is a program you can run which will extract information about the WinTV product you have installed such as model and serial number, MAC address, revision, and features which can be used to identify the exact model of your product. The driver for the device must be installed in order to run Prodinfo.exe
HCWClear: remove the Hauppauge driver and applications from your PC
HCWCLEAR.exe is a program you run to remove all driver and files that were installed with the installation of the WinTV program.